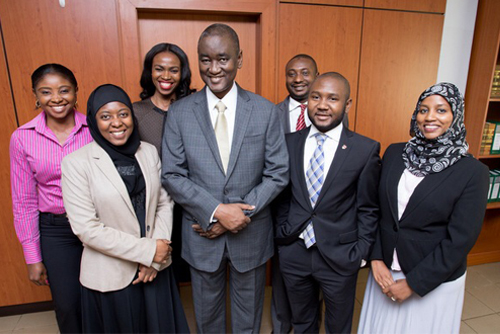 The Law firm of DIKKO & MAHMOUD was established in November 1993 founded by Mr. A. B. Mahmoud, SAN (OON) and Mr. A.B. Dikko former Attorneys General of Kano and Kebbi States of Nigeria respectively. Today, it is staffed with more partners, associates, senior, mid-and fresh lawyers in its offices in Kano and Abuja.
From its inception, the firm focused on creating tailored solutions to client needs and continues to do so. The firm is led by an ambitious, globally minded team delivering efficient and innovative service. The firm's vision has been to offer legal services to public and private sector clients in line with best international practice. It has over the years grown to a modest size firm advising clients from simple to complex legal transactions. Our vision, coupled with long standing track record, drawn upon years of experience and a network of professional contacts both domestically and internationally has put us in a position to handle complex legal transactions.
The services of the firm have been retained by many notable Corporate Organizations, Manufacturing industries, and Governmental and non-Governmental bodies. Amongst our public clientele are Federal Ministry of Finance, Federal Ministry of Water Resources, Bureau for Public Enterprise (BPE), Nigeria Telecommunications Company (Nitel), Revenue Mobilization Allocation and Fiscal Commission (RMAFC), Petroleum Development Trust Fund, Kaduna Refining and Petrochemical Company, etc. While from the Private sector the services of the firm have been retained by numerous corporate and non-corporate organizations such as Gongoni Company Limited, W.J. Bush and Co, First Bank of Nigeria Plc, and Kapital Insurance Co., the Lee Group, Fata Tanning Limited, the Kano Chamber of Commerce, the Yar'Adua Foundation etc. The firm has negotiated many land mark investment and commercial transactions, domestic and transnational litigations, and dispute settlement, touching on various areas of legal practice.